Frank M. Chipasula (1949- )

[Home —> Africa —> Frank Chipasula —> Bibliography ]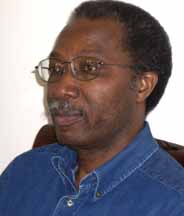 Malawian poet, editor and fiction writer, born on 16 October 1949; B.A. (with Credit) University of Zambia, 1976; M.A. (Creative Writing) Brown University, 1980; M.A. (Afro-American Studies) Yale University, 1982 and Ph.D. (English Literature—Yeats) Brown University, 1987. Currently Judge William Holmes Cook Professor in the Black American Studies Program at Southern Illinois University Carbondale, I have taught at Howard University, Tamkang University in Taipei, Taiwan, University of Nebraska at Omaha, St. Olaf College in Northfield, Minnesota, as well as Brown and Yale Universities. For a year I served as Education Attaché in the Malawi Embassy in Washington, D.C. I have also worked as English Editor for NECZAM Ltd., the former national publishers of Zambia in Lusaka (1976 – 1978) and, as an undergraduate student at the University of Malawi, I freelanced on the M.B.C. (Malawi Broadcasting Corporation) in Blantyre, Malawi (1971 – 73).
Service
Member of the Minnesota State Arts Board;
Member of the Board of Directors: NEBRASKA CENTER FOR THE BOOK (an affiliate of the Library of Congress);
Member of Advisory Board: Noma Award for Publishing in Africa;
Organizer of the First Malawi Literary Festival (1996).
---



Last modified 14 March 2008