Praise for Osonye Tess Onwueme's Works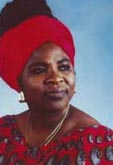 Renowned writers, scholars and teachers continually express their views about Onwueme's writing:
"In her work, Onwueme has shown daring in her exploration of ideas even if they lead to subjects and themes which may seem taboo. Onwueme is eminently a political dramatist, for power affects every aspect of society. She explores these themes with a dazzling array of images and proverbs. Her drama and theater are a feast of music, mime, proverbs and story-telling...[Thus] Onwueme consolidates her position among the leading dramatists from Africa..."
Professor Ngugi wa Thiong'o (1997)
"Onwueme's literary soul-mates are Wole Soyinka, Ama Ata Aidoo, Albert Camus, Chinua Achebe, Toni Morrison, Antoin Chekov, Femi Osofisan, Athol Fugard, August Wilson, Ngugi wa Thiong'o, G.B. Shaw, Gloria Naylor, Buchi Emecheta, Mariama Ba and Sembene Ousmane."
Professor Eugene Redmond (1993)
"Onwueme's plays not only bring the range and beauty of Nigerian culture to an international audience, they create the artistic bridges crucial to the development of a multicultural educational environment. Her works speaks to studies of gender, race, class, and cultural difference..."
Professor K. Kendall (1991)
"Dr. Onwueme's greatest achievement is her body of plays. Her plays are rich in thought and meaning. Her themes and insights are numerous and profound. Her concerns span a wide spectrum of personal, social and global issues..."
Professor Emmanuel Obiechina (1991)
"In many ways, one might see Tess Onwueme as the Ibsen of her culture, the playwright who dares to raise new issues and write: A Doll's House..."
These materials are based on Onwueme's homepage
---