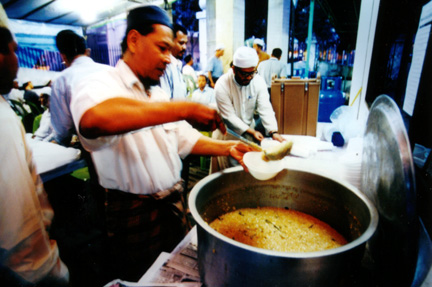 Masjid Omar Kampong Melaka, Ramadan, 1999
During the fasting month in Singapore, mosques cook or cater food - especially porridge (called bubur in Malay) - for free distribution just after asar (afternoon prayers). Here, bubur is being served to all those who have attended the tarawih prayers.
Exhibition is on at the Asian Civilisations Museum till 31 December 2002. This document is part of a joint project of the Asian Civilisations Museum and the University Scholars Programme, National University of Singapore. The image and accompanying text appear here with the kind permission of the Asian Civilisations Museum.
---





Last updated: February 2002