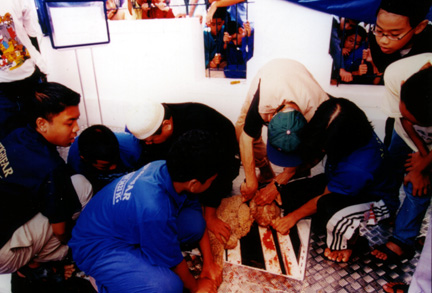 Masjid Al-Istighfar, Hari Raya Haji, 2000
After the sheep has been slaughtered, the dead animal is then skinned, and its meat is divided equally into three portions. The family who had performed the korban (sacrifice) keeps the first portion, the second is shared amongst their neighbours and friends, and the third is given to the needy. Some Singaporean Muslims perform the sacrifice in other countries such as Indonesia and China to share the meat with the needy there.
Exhibition is on at the Asian Civilisations Museum till 31 December 2002. This document is part of a joint project of the Asian Civilisations Museum and the University Scholars Programme, National University of Singapore. The image and accompanying text appear here with the kind permission of the Asian Civilisations Museum.
---





Last updated: February 2002