Duxton Plain and the Future of Public Housing in Singapore
Leong Yew, Research Fellow, University Scholars Programme, National University of Singapore
Since its inception in the 1960s, Singapore's public housing policy has shifted dramatically in accordance with changes in the size of the population and family units, lifestyles, public transportation, and the concept of the neighbourhood and communities. Thus, what emerged in the early 1960s were not simply low cost public flats to address the housing shortage but inchoate forms of Singaporean residential communities. Appearing initially as "satellite towns" these communities became more complex, as differing individual demands required greater variation in the type of flats available as well as the facilities available. For example, "mass-produced" buildings have given way to more individualistic-looking buildings emphasizing greater stylistic variation; more facilities like schools, recreational parks, and shopping malls making each public housing community more self-contained and functional.
In 2001, public housing policy has once again been reassessed. The result of this is the Concept Plan 2001, highlighting the following:
it needs to make available a larger range of flats and more locations in which residents could choose to live;
it has to increase the number of people living in the central (city) area from 3 to 7% of the population;
it should sustain a population of 5.5 million bearing in mind the shrinking of average household size;
it must be able to provide 800,000 new dwelling units on top of the existing 1 million.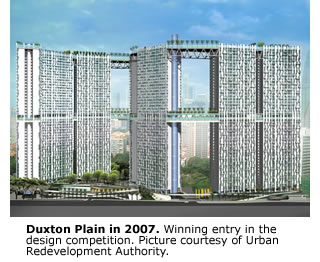 As part of the Concept Plan 2001, the Urban Redevelopment Authority (URA) launched an international design competition in August 2001. The competition sought to redevelop a 2.5 hectare site at Duxton Plain in the Tanjong Pagar area (part of the site is currently being occupied by Singapore's first public housing blocks). Contestants were asked to design new and innovative high-rise and high-density public housing (under 50 storeys) according to various parameters. These included the commemoration of the original historical public housing blocks, designing units that would respond to the tropical climate, and providing sufficient and, where possible, multi-storey communal spaces.
While the competition attracted 202 entrants from around the world, only five were shortlisted to enter the last judging stage. The winning entry was a young architectural firm based in Singapore. Providing 1,800 units, the winning design consists of seven 48 storey blocks, recreational areas interspersed at different levels of the buildings, as well as a number of commemorative gardens and parks. According to the judges' comments, ARC Studio Architecture + Urbanism, the winning entrant, did so well because of their proposed design was simple and "urbanistically effective," maximizing views from the units, encouraging greater social interaction through the design of communal spaces, and providing a wide variety of floor plans, while minimizing the "impact of the high-density environment." [Read the adjudicators' comment on the winning entry]
---
Last Modified: 31 October 2002