Vestiges of the older Singapore: Boon Tat Street
George P. Landow, Professor of English and Art History, Brown University; Distinguished Visiting Professor, NUS, 1998-99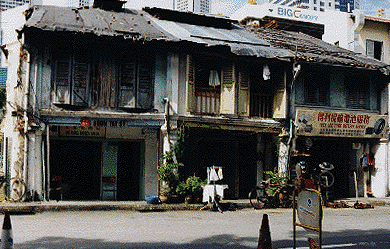 View of Chinatown's unrestored shophouses on Boon Tat Street (around the corner from the Nagore Durga Shrine). September 1998. [Photographs © George P. Landow and may be used without written permission for any educational purpose. Any commercial or other use requires prior written permisison from

]
Upon seeing this photograph of these three unrestored Boon Tat Street structures in the midst of the much-gentrified part of Chinatown, several older Singaporeans have remarked, "That's the old Singapore! That's what it looked like fifty years ago when I was a child."
According to a history of the financial district published by the Urban Development Authority,
On average, residential density within the combined 5.2 sq km of the north and south built-up areas was 568 people per ha. However, there were extensive areas where densities reached between 1,220 and 1,700 people per ha. Some blocks of houses even reached 2,470 or more people per ha. The overcrowding was due largely to the existing subtenanting practice of dividing and further subdividing rooms. Generally, the worst over-crowding occurred in the most dilapidated buildings.

The rows upon rows of shophouses were built back-to-back. Typically, the ground floor was used for retail or workshop activities. A steep, narrow internal staircase led to the second storey where space was divided by temporary partitions into cubicles on one or both sides of an internal corridor. In each cubicle lived a household or a group of single individuals. Kitchens, bathrooms and lavatories were shared by all households in the building. [The Golden Shoe, p. 11]
References
Chua Nemg Huat. The Golden Shoe: Building Singapore's Fionancial District. Singapore: Urban Development Authority, 1989.
---