Sri Mariamman Temple
Tower over main entrance viewed from left side on Pagoda Street.
South Bridge Road, Singapore.
The Temple has a five-towered gopuram. At the center of each side-panel is an image which depicts one of the manifestations of the Goddess, surrounded by her attendants. [Medha Malik Kudaisya]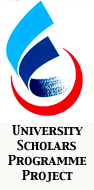 Photograph © George P. Landow may be used without written permission for any educational purpose. Any commercial or other use requires prior written permission from

.