World War II
Kwok Kian Chow
This document is part of a joint project of the Singapore Art Museum and the Honours Core Curriculum, National University of Singapore. This image and accompanying text appears here with the kind permission of the Singapore Art Museum.
In 1942, on the eve of the Pacific War, Liu Kang, who would later be known for being a pioneer of the Nanyang style, arrived in Singapore. Just as the Society of Chinese Artists was nearing completion in its preparation for its sixth annual art exhibition, Singapore fell to the Japanese. The society's president, Tchang Ju Chi, vice-president, Ho Kwong Yew and some members succumbed to a military screening operation while others scattered.
Like all British civil servants in Singapore, Richard Walker was interned during the Japanese Occupation, but he continued to teach art classes in both the men's and women's sections of the internment camps.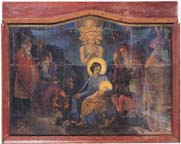 Walker's most important work in Singapore is Epiphany created in Changi during the war. The painting, a study for a mural, was placed behind an improvised altar for holy communion services in the prison. This work was presented to the Anglican Diocese of Singapore after liberation and was recently donated to the Singapore Art Museum. Epiphany, or the thirteenth day of Christmas, celebrates the revelation of Christ to the Magi. Painted in an allegorical style, Epiphany portrays the Virgin Mary as an Asian woman to symbolise the universal truth of Christianity.
There were also other artists with Walker in Changi and Sime Road prison camps. Stanley Warren painted Biblical murals in the camp chapel which is now part of Changi Air Base (Singapore: A Pictorial History p. 65). C. G. Jackson who later became the presldent of the YMCA Art Club, invented the medium of "wax etching" while in Sime Road camp. Jackson scratched on the wax wrapping paper from Red Cross parcels and applied stolen anti-rust zinc paint meant for coating water pipes to the paper to obtain images. This improvised medium was so successful that Jackson taught the technique after the war, refining the finish by employing a variety of other materials from oil colour to kerosene (v1, n1).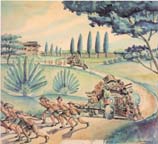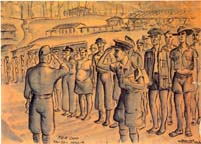 Two works, Trailer Parties and Evening Roll Call by another prisoner of war, Leo Rawlings, are illustrated here. Rawlings joined a British field regiment deployed to support the garrison of Singapore in 1942. Shortly after he was taken prisoner, Rawlings' work was noticed by Lieutenant General Louis Heath who directed him to keep pictorial records of internment life. Rawlings did so, using mediums from clay to plant juices and brushes made from his own hair.
Another Changi artist was Bill Haxworth whose collection, which includes drawing works, many with colour washes, are with the Singapore National Archives. Outer Perimeter Path depicts a passage in the prison which was lined with papaya trees.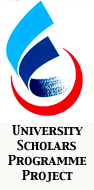 References
C.G. Jackson. "Waz Etching" in The Singapore Artist. Published by Singapore Art Society, 1954.
Ministry of Culture. Singapore: A Pictorial History. Singapore 1984.
---





Last updated: May 2000