Ten Men Art Group & Field Trips in Southeast Asia
Kwok Kian Chow
This document is part of a joint project of the Singapore Art Museum and the Honours Core Curriculum, National University of Singapore. This image and accompanying text appears here with the kind permission of the Singapore Art Museum.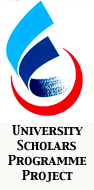 While the watercolourists who painted the Singapore River were in search of a national emblem, the search for a Southeast Asian regionalism as an aesthetic agenda of the Nanyang School continued. Following the Bali Field Trip of 1952, other artists made regular excursions to Southeast Asian countries to seek visual sources and inspiration.
The Ten Men Art Group, the brainchild of Yen Chi Wei, was an informal grouping of artists whose common interest was to participate in such field trips to the region, The group, which membership increased to sixteen in its fifth outing, organised a total of six trips to the Malayan peninsula, Java, Bali, Thailand, Cambodia, Sarawak, Sabah, Brunei and Sumatra between 1961 and 1970. Of its members, only Yeh Chi Wei and Choo Keng Kwang went on all six trips followed by Lim Tze Peng and Seah Kim Joo who participated in most of them.
Liu Kang wrote of Yeh Chi Wei in 1969:
The Ten Men Art Group was originally a group activity. However, since Chi Wei is the chief planner of the activity as well as the essence of its aesthetic direction, it would therefore be appropriate to regard the Ten Men Art Group's evolution as representative of Chi Wei's personal artistic development. ["Shinian lai zhi wei" p. 4]
It is intriguing that Yeh's search for a primordial quality in painting corresponded with the interest of the Shanghai School in expressing the essence of the subject, since in reaching that goal the work of the ink painters became increasingly abbreviated and light while Yeh's oil painting became rich, weighty and mysterious. Yeh speaks of his own intention:
In the depiction of the reverential stupas and temples, as well as the ancient ruins and weathered walls.... I have sought to capture the essence of the calligraphy in Chinese wood block printing, stone engraving, and oracle bone and bronze inscriptions; By using principally black chromatic and a sculptural format, I shape and engrave on the canvas treating the painted surface like a stone carving. What I am searching for is to present all matters as having the hardness of stone, and the unassuming brush quality of Chinese calligraphy, and to imbue oil pigments with an ink characteristic. [p. 4]


Musician and Drummer are two works by Yeh painted in the 1970s. They show Yeh's subsequent softening of the stone-hard forms to arrive at a new lyricism. With a bold and highly-personalized use of colours and textures, he renders human figures in black while creating a free interplay between the figurative, calligraphic and the ornamental.
From Social Realist beginnings, Choo Keng Kwang moved to impressionistic depictions of nostalgic scenes of Chinatown, Little India and Arab Street. Though his compositions are usually painted on location, the works depict scenes which have been reinterpreted by the artist and are not direct transcriptions of reality. Each scene has been carefully researched through records and photographs at the National Archives for historical authenticity.
Choo also painted birds, fish and other animals and works in a variety of media, including oils and batik, as well as creating murals in copper, aluminium and wood. Temple Street is an example of Choo's mature style, a style which he first developed in the mid-1960s.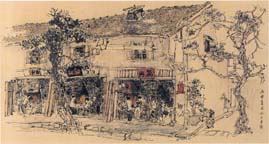 Lim Tze Peng who participated in most of the Southeast Asian field trips in the 1960s, evolved a unique style of ink painting. Using rich brush and tonal details, the drawing-like descriptive approach is often regarded as a manifestation of the Nanyang School in the ink medium. Lim's works usually exude a quiet harmory and a subdued charm. A good example is Blacksmith, which depicts with a sense of nostalgia, the quiet and slow-moving pace of life in a row of old shophouses -- the hammering of iron, the repairing of bicycles and men in conversation reflect the mood of daily life in old Singapore. This serene scene is achieved by skilful drawing technique and a delicate handling of the Chinese brush.
While Choo Kerg Kwang was a secondary school student in Catholic High School, Shi Tat Sing taught him art. Shi joined the Ten Men Art Group on its field trip to Thailand and Cambodia in 1964. Although Shi taught watercolour in school, he was better known as a sculptor in wood, especially teak. His works, such as The Life of Miao which captures the various activities of the Miao people in northern Thailand, are narratives on the lifestyle of ethnic Southeast Asians.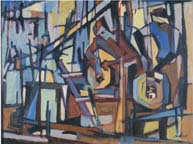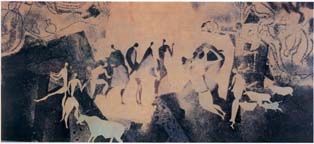 Seah Kim Joo, another regular participant of the Southeast Asian field trips, drew his inspiration from the traditional medium of batik print. In the 1950s, when the Penang-based artist Chuah Thean Teng experimented with representational painting using the batik medium, he drew a following since the manifestation of contemporary themes in a traditional medium was regarded as a direct expression of Nanyang regionalism. It is interesting that Seah brought the pictorial characteristics of Chuah's batik painting back to the oil medium in the 1960s. Log Factory has batik characteristics while Traces of History uses the traditional batik medium to express historic nuances, a quality which also characterises the works of Yeh Chi Wei.
References
Liu Kang. "Shinian lai zhi wei", in Yeh Chi Wei. Singapore, 1969.
Yeh Chi Wei. Yeh Chi Wei. Singapore, 1969.
---





Last updated: May 2000