Notions of Modern Art in the 1970s
Kwok Kian Chow
This document is part of a joint project of the Singapore Art Museum and the Honours Core Curriculum, National University of Singapore. This image and accompanying text appears here with the kind permission of the Singapore Art Museum.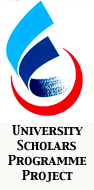 Multi-culturalism has been an important theme in Singapore art since 1949, the year when the Singapore Art Society was formed. In 1955, this concept was incorporated in the stated objectives of NAFA. By the 1970s, notions of multi- culturalism and internationalism appeared to have been linked with formalism, forming another benchmark by which the term "moderm" may be applied to Singapore art.
Formalism had become an international language partly as a result of the promotion of Abstract Expressionism in America in the wake of the international geopolitical order of the Cold War. Formalism then became associated with internationalist and universalist ideologies and found expression in modernising post-colonial societies. In this way, formalist concerns were widespread in the key Southeast Asian cities in the 1960s and 1970s.
In Singapore, the art reviews of the 1970s likewise discussed the formalist aspects of art. Thomas Yeo wrote that while he was in London he became more concerned with pictorial arrangement, such as the position of the figures, the space around them and the proportions (with each element having) its part to play (Singapore Artists). Anthony Poon's Waves series was thought to produce "rhythmic flow of colour sensations caused by the juxtaposition of the coloured squares" (Singapore Artists). Tow Theow-Huang discussed Jaafar Latiff and Choy Weng Yang's works as "abstract, in the sense that they do not represent recognisable objects and may simply be 'read' as pleasing arrangements of colour, shape and line" (New Nation). Chia Wai Hon was quoted as explaining that he had no particular subject in mind when he began work on a painting -- "I play around with forms and the forms suggest things to me." ("Four Teachers Show Off Their Collections...").
Ho Ho Ying provided an observant yet pungent account of public response to newer art forms in 1979. He noted:
Unlike in the 50s and 60s when works of modern art were held in high disregard. the prevailing attitude now is one of apathy and tolerance based on ignorance. ["Modern Art Attitude Today Based Largely on Ignorance"]
Robert Yeo, a Singapore academic and writer, was more positive. In discussing the state of the arts in an 1975 article, Yeo articulated the conceptual relationship among multi-culturalism (in its multi-racial manifestation), international language and artistic innovation. He commented that in the making of social traditions in the arts in Singapore, "what matters most, in the end, are only those arts which are relatively developed or have potential for developing locally." Painting, according to Yeo, was a developed art form because it had an accepted body of work and had the following features:
Firstly, painting has produced about a dozen professionals; secondly, it is internationally-oriented and eclectic: and thirdly, it cuts through intractable linguistic barriers and is genuinely multi-racial in practice and appeal. ["Art Forms with a Local Flavour"]
Although formalist aesthetics was a keen focus in Singapore during the 1960s and 1970s, it was not the only framework within which the visual arts was developing. Many individual artists were working in relative isolation from the international art discourse. As a category, it may be possible to consider the newer ink paintings by artists such as Tan Swie Hian, Tan Oe Pang and Henri Chen as a further aesthetic exploration developed from the ink tradition. Highlighting personal and internal aesthetic expression, Susie Koay groups Tan Swie Hian, Henri Chen, Han Sai Por, Eng Tow, Wee Soo Leong, Goh Ee Choo, Salleh Japar and S. Chandrasekaran as "artists who isolate themselves to create an inner world within the urban setting" (Susie Koay p. 8).

Tan Swie Hian, Henri Chen and Tan Oe Pang have utilised the language of ink -- including the use of void in composition -- to express inner feeling and personal symbolism. Tan Swie Hian's Humming Birds Racing is a translation of D. H. Lawrence's poem into visual form while Night Kites, an ecstatic phenomenon, is a celebration of the power and the flux of creativity itself. Henri Chen's Self Portrait, on the other hand, is a dynamic dissolving of textured motifs reaching into the depth of human psyche. Tan Oe Pang's The Three Evils and Huang Di and Chew Hiong San's The Way point to other possible directions in the newer ink paintings.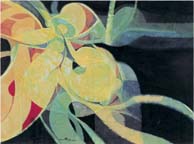 Artists of the "Second Generation" continued to be very prolific during the 1970s and 1980s and many important works were produced. Abdul Ghani Hamid, author of An Artist's Note, a monograph on Malay art activities in Singapore, was a founding member of the Association of Artists of Various Resources (Aneka Angkatan Pelukis Daya) which succeeded the Society of Malay Artists as the key Malay art society. Abdul Ghani's The Face of Meditation was painted in 1975. The composition, with thick outlines which suggest batik work is a montage of a mask and body parts in a landscape-like setting. Another outstanding Malay artist is Jaafar Latiff who took the batik medium to a greater expressive plane in his Wandering series of the late-1970s. Other outstanding artists of the 1970s were Chieu Shuey Fook and Tay Bak Koi. Illustrated here are Chieu's Barren Land of 1975 and Tay's Interlude of 1978.
References
Betty L. Khoo. "Four Teachers Show Off Their Collections...". New Nation, 1975.
Chia Wai Hon (ed). Singapore Artists. Singapore: Ministry of Community Development, 1982.
Cited in "Modern Art Attitude Today Based Largely on Ignorance". Straits Times, April 23, 1979.
Robert Yeo. "Art Forms with a Local Flavour". New Nation, August 30, 1975.
Susie Koay. "Urban Artists: 25 Years of Singapore Art". Singapore: National Museum, 1990.
Tow Theow-Huang. New Nation. October 8, 1976.
---





Last updated: May 2000