Tang Da Wu, The Artists Village
Kwok Kian Chow
This document is part of a joint project of the Singapore Art Museum and the Honours Core Curriculum, National University of Singapore. This image and accompanying text appears here with the kind permission of the Singapore Art Museum.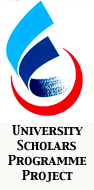 Writing in the early-1970s, Cheo Chai Hiang anticipated the new art of the 1980s and 1990s. In an article published in Chinese, Cheo advocated the following new concerns in art: rejection of formalism; incorporation of intensely personal and emotive elements; inclusion of objects not previously regarded as art; emphasis on the artistic process as opposed to the finished work, use of indigenous materials; articulation of the relationship between material and the creative act; the visual experience not being the only reference for the creation of visual arts; and the incorporation of audience participation in a creative act ("Xin de yishu xin de guannian").
The first art work in Singapore which fit Cheo's new concern was Tan Teng Kee's Picnic event of 1979. Tan created a one-hundred-metre long painting entitled The Lonely Road which he cut into smaller pieces according to the wishes of the viewers. The end of the event was marked by Tan's incineration of one of his sculptural works.
Tang Da Wu returned to Singapore that same year (1979) after staying in Britain for about ten years. He would prove to have far-reaching influence or art in Singapore. Tang's exhibition at the National Museum Art Gallery of the linens which he hung in gullies at Ang Mo Kio, then a public housing development site, generated much curiosity. The works, entitled The Product of the Sun and Me and The Product of the Rain and Me were the linen sheets, soiled and stained with watermarks. Tang was quoted as saying:
An artist should introduce to others what he sees and learns of something. His works should provoke thoughts, not to please the eyes or to entertain, much less for decoration. ["Art for Learning More than Appreciation"]
Tang explores ways of projecting pressing concerns regarding the environment within specific social or ethnic contexts. His major series include Rhino and Tiger's Whip, commentaries on the near-extinction of these animals due to the consumption of animal parts following Chinese traditional beliefs of sexual virility.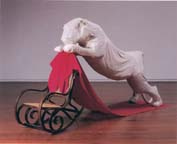 Tiger's Whip, an installation and performance piece, was first presented in 1991 in Singapore's Chinatown. The object of the piece was to highlight the plight of the endangered tiger which is being hunted down for their penises, which, according to Chinese superstition, make a powerful aphrodisiac. Tang's work shows how traditional beliefs can clash with the reality of the ultimate extinction of the species. The installation consists of ten life-sized tigers constructed from wire mesh and white linen. One of the tigers rests its front paws on the edge of a wooden rocking chair. On the seat of the chair is painted, in red, the symbol of virility in the image of a penis that has been appropriated at the expense of the tiger's life.

Tang's works are often conceptualised through a series of preparatory drawings or sketches. Beyond their function as problem-solving devices in the process of completing an artwork, the drawings also advance or develop notions or themes, whether autonomously or complementing a painting, sculpture or installation. Tang's three drawings, Map of South America, Woman with Snake in a Cage and Australian Legend, while being part of performances and installations, work or their own as drawings endowed with formal and conceptual qualities. Australian Legend is a quickly rendered sketch that evokes a sense of immediacy, though it is not without carefully considered form and design. It deals with subjection and victimisation explored at many levels.
In 1987, Tang led a group of younger artists to establish The Artists Village in Lorong Gambas, Ulu Sembawang, one of the then few remaining rural areas in Singapore. Through Artists Village, Tang became more influential than any Singapore artist in introducing fresh approaches to the usage of material and space. A review in The New Paper wrote of Tang and the Artists Village:
His name ignites different responses in the local art community. Some good, some bad, never indifferent. The more traditional masters don't know how to respond to Tang Da Wu.... At best, old style followers raise an eyebrow and feel uncomfortable with his flamboyance. At worst, they mutter darkly about the lamentable state of the art. But there are a few who feel Da Wu has brought a breath of fresh air back into a stale art scene... Da Wu has converted a chicken farm into an art studio and workshop, making art critics, reporters and the plain curious travel through bumpy backwaters in search of the jaunty little sign along Lorong Gambas that says "61 - B, Tang Da Wu."[(Pauline Loh]
T. K. Sabapathy described the artists' collective in a photocopied brochure produced by the Artists Village for its quarterly open studios:
A colony of artists can be found in a cluster of zinc-roofed huts, with real farmers and chicken and pigs. These artists have been drawn together by their common aims and methods of work. They are interested in art as a continuous process, instead of as a finished work They seek to use artistic medium boldly and directly without artifice or ornamentation. They are concerned with figuration, whereby the words of man and nature are transformed into images which express highly- charged emotional and psychic states. They wish to draw the viewer into an active, dynamic relationship with the art work, the artist and the process of creation. They have made positive beginnings. We wait to see their development. [Second Open Studio Show]
More so than the Society of Chinese Artists and Modern Art Society, the Artists Village was a dynamo in fostering alterity in Singapore as the artists lived and worked together in a close community. At its height, the Village attracted some 35 artists to live and work in Sembawang with some 50 others participating in its exhibitions.
In addition to quarterly open studios, the Artists Village organised many important visual arts events Artists Village Happenings at the Nanyang Technological Institute in 1989, The Time Show, a multi-media event to celebrate the new year of 1990 held over twenty-four hours from the morning of new year's eve to the morning of new year's day, and The Space at the Hong Bee Warehouse in 1992. The Time Show was definitely a high point the history of art in Singapore when an exceptionally wide spectrum of artists expressing in an equally wide range of mediums participated in a single art event. Amongst the participating artists were Teo Eng Seng and Han Sai Por.
Artists associated with the Artists Village include Wong Shin Yaw, Jailani Kuning, Vincent Leow, Amanda Heng, Tang Mun Kit, Lim Poh Teck, Faizal Fadil, Koh Nguang How, Baet Yeok Kwan, Son Siew Kat and Hazel Macintosh.
Lim Poh Teck's paintings, rendered in a frenzy of strokes using strong primary colours, present both stylised and abstract figurative forms. Although predominantly a painter, Lim is increasingly experimenting with other media including sculptural and installation work. In his sculptural work, including the Conversion series, Lim combines found objects into intriguing and captivating configurations.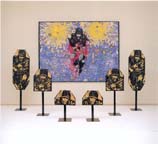 In Progress, an installation by Lim, consists of seven parts; a painting and six rifle-range targets in three different sizes. Positioned in the centre of the painting, among leaves and flanked by large sunflowers rendered in a frenzy of bold coloured strokes, is an image appropriated from a military target that features an armed soldier charging aggressively. Immediately in front of the painting are placed six standing targets of three different heights and sizes with painted metal bases. Here, in commenting on society's sense of vulnerability and in-security, the artist inverts the role of targets and those that they confront. The viewer is faced with the issue of violence that is ordered and organised and legitimised by beliefs of self-preservation and defence.
A former mechanical engineer, Tang Mun Kit's entry into the art scene in 1987 was facilitated by his association with Tang Da Wu, Wong Shih Yaw and Vincent Leow. Tang is predominantly a painter-sculptor who often works with installations as well. His paintings are expressionistic in style and are often executed in series over a short duration, giving the works a quality of immediacy, visual continuity and variation. Improvisation: landscape #3 is an example. A monochromatic painting executed in vigorous and an almost brusque manner, it is quickly conceived without apparent hesitation or preparatory considerations for depth and composition.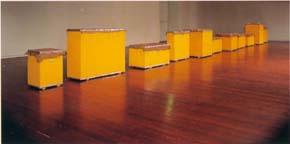 Jailani (Zai) Kuning received his formal art training at La Salle-SIA College of the Arts. Working in multimedia, Jailani shuttles among painting, sculpture-making, installation work and performance art, exploring notions of identity, socio-political concerns and the role and function of art in society. Installing Memory 1992 comprised Jailari's own sculptural works and other materials from The Space at Hong Bee Warehouse which he packed into the yellow boxes in a later performance at the Substation. Here, the artist attempts to confront attitudes towards art which have been "relegated" to the status of mere commodity and the role of art in the socio-economic space. As a potent commentary, the artist conveys his concern for the decline of art as a practice that offers expressions and insight into the human condition. Art commodified, becomes entrapped by materialism and is denied its true nature and virtue -- an expression of Man's conscience and his means of actualisation.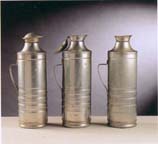 Faizal Facil's Study of Three Thermos Flasks are actual flasks acquired from a local flea market. The controversial work was displayed at the 1991/92 Singapore Sculpture Exhibition generating intense discussion in the media as to what should constitute a work of art. The work questions the preconditions that define an object as art and brought to issue prevailing conventional assumptions. Study of Three Thermos Flasks may be said to dislodge orthodox criteria, or at least affirm the changing fronts in sculpture-making that has been taking place in Singapore since the early 1980s with the return of Tang Da Wu and the "alternative" activities undertaken and facilitated by the Artists Village.

A graduate of La Salle College of the Arts, Vincent Leow works in multimedia as well as painting. Leow deals with a wide range of issues including notions of identity, liberty and problems of expression. Also a performance artist, Leow's works included Life-styles of the Rich and Famous. Two Men is one of several paintings by Leow from a two-man exhibition, entitled Two with a Cause, held in 1989 with Wong Shih Yaw. The exhibition saw the continuing interest for figurative expressionlst tendencies initiated by members of Artists Village. This offered a challenge to the orthodox conventions of picture- making prevailing among Singapore painters. Bordering on the raw and banal, Two Men is executed in an expressionistic manner displaying a brusque and spontaneous system of working that results in an image bursting with urgency and visual potency. The two figures in the painting are linked together by the artist in an incongruous fashion. Neither pervasively combative nor sexually suggestive, it still manages to project psychological tensions and unresolved anxieties.

Completed in 1988 by NAFA-trained Baet Yeok Kwan, Untitled (door) may be seen as both a montage and an assemblage. Various symbols are depicted in the painting. Centrally positioned, an image of a door of Chinese design is the visual anchor, Cinema posters, in translucent layers, featuring the movie Rambo III, placed on the top of the doorway, are juxtaposed with images that one associates with the traditional Chinese culture -- rice-bowl and chop-sticks, palm of a hand and a drawing of the human anatomy linked to Chinese medicine. The panel is punctuated with two iconic faces: one a colourful mask from the Chinese opera, and the other, an abbreviated image of a human head directly appropriated from a local computer school logo. The tension created by the artist with these images may be seen as a comment or the inherent conflict of values between the traditional and the modem. It suggests that a meeting between the two is both intriguing and perilous, involving continual uprooting and revaluation of previously held values. The consequence is adopting, without a perfect synthesis, those values imbibed from increased contact with the West, represented here by the Western media -- the most pervasive of all instruments of value dissemination.
Sabapathy wrote in 1993:
Over the past five years a number of artists, chiefly newly emerging and in their late twenties and early thirties, have been initiating practices which signal significantly different aims from those which shape what is recognised as established art forms in Singapore. They are engaged at a number of fronts, frequently cutting across genres and categories, employing multimedia, multi-disciplinary and multi-cultural approaches, earnestly re-examining the basis for art activity, and renegotiating and expanding connections between artists, art and the public. [p. 85]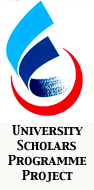 The Artists Village is an example of such innovative work by a group of younger artists whose later works would develop towards increasingly individualistic directions. The Lorong Gambas premises ceased operation when its rental lease lapsed in 1990, but the Artists Village ("Space Shuttles"), although no longer a designation for a venue but for an art group, operated out of Tang's residence and has continued to organise important events such as The Space.
Other younger artists not directly associated with the Artists Village have also been producing very exciting works. In 1988, Salleh Japar, Goh Ee Choo and S. Chandrasekaran, all graduates of NAFA in the late-1980s, presented Trimurti, a multi-media presentation comprising paintings, sculptures, installations and performances. The three artists -- a Malay, a Chinese and an Indian -- had chosen the Hindu composite of Brahma, Vishnu and Shiva symbolising creation, preservation and dissolution to show that different cultural and religious backgrounds could exist together harmoniously.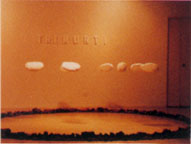 "Trimurti", wrote the artists, "transformed (sic) air art space into an energy space, a stage where the cosmic happening of creation, destruction and preservation which occurs in continuity and exists side by side using multi(media) expressions in paintings, sculptures, installations and performances. All three manifestations and expressions will be merged into one single happening, relating one to the other, expressing the total art concept." [Trimurti]
The three artists continued to do multi-media innovative works, drawing from multiple inspirations - indigenous materials, ethnic and religious themes, social commentaries and philosophical concepts. Examples of recent works are Salleh's Mechanical Learning, Chandrasekaran's Visvayoni and Goh's The Word.
References
Cheo Chai Hiang. "Xin de yishu xin de guannian". Xinjiapo yuekan, ca. 1972.
Jasmine Tan. "Space Shuttles". The Peak, v9, n11, 1993.
Pauline Loh. "Kampung Refuge for Artists". The New Paper, February 7, 1989.
Salleh Japar, Goh Ee Choo & S.Chandrasekaran. Trimurti. Singapore, 1988.
Cited in The Artists Village. Second Open Studio Show, 1989.
T.K. Sabapathy. "Contemporary Art in Singapore: An Introduction" in Caroline Turner. Tradition and Change: Contemporary Art of Asia and the Pacific. Brisbane: University of Queensland Press, 1993.
---





Last updated: May 2000