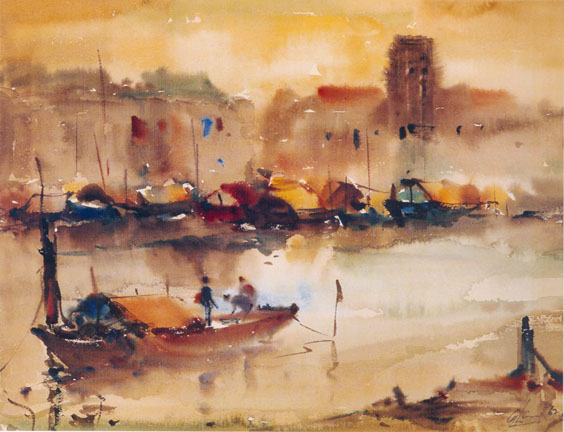 Singapore River by Lim Cheng Hoe. Year: late-1960s. Medium: Watercolour. Size: 33 x 43 cm.
"Singapore River is a work painted in the late 1960s. Here, Lim uses a wet-on-wet technique to produce a soft and watery feel to the entire picture. The picture plane is neatly divided into two, Wth the river occupying the bottom half of the painting. There is a dark row of boats marking the dividing horizontal, but the symmetry of the painting is relieved by a sampan in the foreground and a glimpse of the river bank at the lower right corner. The buildings in the back are vague washes of warm gray that fade into the distance and the more articulated objects in the foreground push the depth of the painting even further. The painting is mainly covered with light shades of gray and are cleverly punctuated with very dark areas of paint. The neutrality of hue is accented with small patches of colour. Lim has captured a warm and delicately glowing quality of light that is especially appealing in this rather romantic view of the river."

-- Channels & Confluences, chapter 17.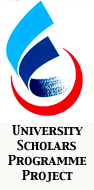 References
Kwok Kian Chow. Channels & Confluences: A History of Singapore Art. Singapore: National Heritage Board/Singapore Art Museum, 1996. Plate 71.
This document is part of a joint project of the Singapore Art Museum and the Honours Core Curriculum, National University of Singapore. This image and accompanying text appears here with the kind permission of the Singapore Art Museum.
---




Last updated: April 2000