Angeline Yap: Biography and Brief Introduction
Gwee Li Sui, Department of English Language and Literature, National University of Singapore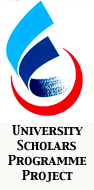 This rarely sighted specimen is native to the Bt. Timah / Macritchie Reservoir region of suburban Singapore. It was first cultivated in a Convent in Katong, where dedicated teachers discovered that, under the correct conditions, it could produce poetry.
Preferred fertilisers -- Shakespeare, Wilfred Owen, Robert Frost, Madeleine L'Engle, CS Lewis, Luci Shaw, Lee Tzu Pheng, Leong Liew Geok. Currently nourished with -- Jane Kenyon, Donald Hall.
Attributes -- Shy, shade-loving, difficult to locate and cultivate. Thirstily soaks up childrens' literature for relaxation -- prose as well as poetry. Thrives when exposed to music by Michael Card or Paul Simon & to light classical music.
Wife, writer, working mother of three.
Aspires to find time to write a "how-to-write-poetry" article / book for children, and/or to edit the "Official / Indispensible Book of Singaporean Humourous Poetry". Will resort to desperate measures, and solo author it if contributors cannot be found (after all this is Singapore... ...).
---