Colonial Architecture in Zimbabwe: Columns and White Walls
George P. Landow, Professor of English and Art History, Brown University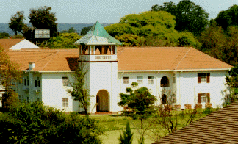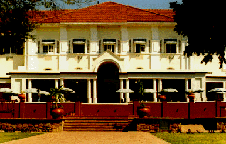 Two views of the Victoria Falls Hotel in Victoria Falls, which dates from 1904. Paul Tingay's Zimbabwe correctly points that that it "is pure raj" and rivals other great Imperial-period hotels -- "Singapore's Raffles, Bombay's Taj Mahal, and Capetown's Mount Nelson" (55). Left: the hotel from the rooftop of the nearby Makasa Sun Casino Hotel. The right-hand photograph shows the hotel, which is built around a courtyard, from the grounds that face the bridge over the Zambezi connecting Zimbabwe and Zambia.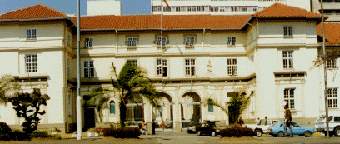 A Harare government building from the 1930s facing Parliament. Like the Victoria Falls Hotel and other buildings shown below, this one derives from Italian Renaissance architecture.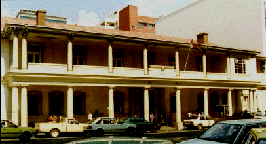 A building, again from the first part of the twentieth century, containing retail stores. Many of these humbler be-columned buildings from the colonial period have been torn down to make way for high-rise structures.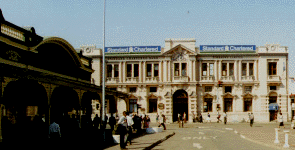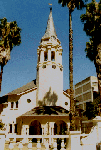 Left: An Edwardian-style structure characteristic of many buildings found in both Pall Mall and Regent Street, London, and throughout the territories of the former British Empire. In contrast to the relatively plain facade of the first building from Harare shown above, this one has all the embellishments of the Edwardian Imperial style. At the right-hand side of this photograph in shadow one can catch sight of a building with a late Victorian or turn-of-the-century cast-iron storefront. Right: The Dutch Reformed Church.
---
Photographs © George P. Landow. Scans by GPL and Giovana Roz, Brown University Visiting Scholar from the University of Turin. Images may be used without written permission for any educational purpose. Any commercial or other use requires prior written permission from George@Landow.com.
---