Weya Paintings -- Boys Looking after Cattle
George P. Landow, Professor of English and Art History, Brown University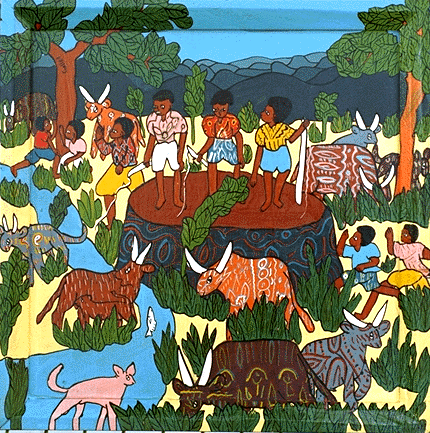 Boys Looking after Cattle. Painting on wood, approximately 12" x 12." Collection Philip J. Macktez, Providence and West Palm Beach.
Note the way the artist has continued the image beyond the picture space and on to the frame itself.
What does this image of village life suggest about the centrality of land to the the artist's culture? What can you conclude about the artist's view of reality from the use of pattern, both when such forms a component of realism (clothing) and when it does not (animals)? What you similarities can you find between this painting and works of contemporary Zimbabwean fiction?
---
Photograph © George P. Landow. Scan from original negative by Imagers®. Images may be used without written permission for any educational purpose. Any commercial or other use requires prior written permission from [email protected]
---