Bernard Takawira (1948-1997)
Joceline Mawdsley, Former Exhibitions Curator, Chapungu Sculpture Park, Harare
---
[ The following essay has been adapted with the kind permission of the Director, Chapungu Sculpture Park, from Chapungu: The Stone Sculptures of Zimbabwe (1995). All images © Chapungu Sculpture Park, Harare.]
---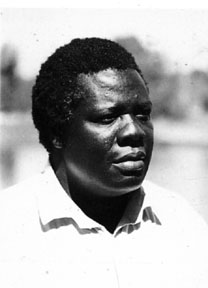 Bernard Takawira, the younger brother of John, was born in 1948 in the mountainous and beautiful Nyanga district of Zimbabwe, the third son of six children. His father spent much time away from the family with his work and the mother assumed the dominant parenting role. A powerful and highly respected person, Mai Takawira, served as an enormous influence on the three sons and was well-known for her deep knowledge of Shona myths. Her natural gift for story-telling perhaps more than anything moulded the talents and hearts of her sons, as their later work was to be guided by dreams and the magical in all forms of life.
After leaving school, Bernard Takawira trained as an agricultural advisor to the Government, but he was encouraged to begin carving by his elder brother, John, who was fast becoming a rising star at Frank McEwen's Nyanga workshop, Vukutu. As a result he began to spend any available free time at the sculptors' community. Powerful inspiration and endorsement of his creative yearnings was provided by the rugged and beautiful landscape as well as by the extraordinary 'brotherhood' of artists that had gathered there. Rather than being a minor interest in his life, sculpture soon assumed a role of dominating importance and in 1977 he gave up his job with the Government and began sculpting full time. His accomplished and purposeful sculpture belies great struggle within its creator: a struggle between his Christian beliefs and his traditional Shona upbringing (which provides much motivation for his work); a struggle between his great physical presence and power, and his desire to express the more sensitive, fragile issues of life; and the constant struggle with the demands of some of Zimbabwe's hardest stone in his attempts to portray some very finely-conceived themes. In order to understand his subject matter and expression, it is important to be aware of these elements of the artist himself. Perhaps the most striking aspect of Bernard Takawira's sculpture, and method, was his constant search for new ways to express his ideas - and these ideas frequently shifted. Not happy to accept views at face value, he was well known for his questioning approach to everything, be it a philosophical idea, a moral dilemma, a spiritual issue or a practical problem. The range of subject matter in his work invariably dealt with themes such as patience, humility, enquiry and integrity.
Despite his success, Bernard Takawira was not content for his sculpture to remain static. He was extremely demanding of himself and agonised over his work in order to better communicate his ideas and themes to a growing audience. He has been exhibited widely, both in Zimbabwe and overseas, and to great critical acclaim. His choice of subject matter and his continuing ambition to portray such ideas in increasingly sophisticated and searching ways ensured the creation of sculpture to inspire artists and non-artists alike, worldwide.
---