Gedion Nyanhongo
Joceline Mawdsley, Former Exhibitions Curator, Chapungu Sculpture Park, Harare

---
[ The following essay has been adapted with the kind permssion of the Director, Chapungu Sculpture Park, from Chapungu: The Stone Sculptures of Zimbabwe (1995). All images © Chapungu Sculpture Park, Harare.]
---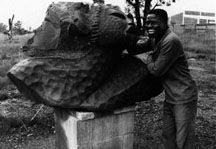 Gideon Nyanhongo was born in 1967, in Nyanga, and like his sister Agnes was led to sculpture by his father, the well known first generation sculptor Claud Nyanhongo. Gideon worked for some time as a gallery sales assistant before deciding to sculpt full time .
Initially he worked along side one of Zimbabwe's most critically acclaimed artists the late Joseph Ndandarika for a period of three years. It was through Joseph's guidance that Gideon found the confidence necessary to follow his own path. The fluid line, the subtlety of observation and the use of the figure to portray a strong cultural message still bears testament to the early influence of Ndandarika.
In 1994, Nyanhongo was selected to participate in the Chapungu artist residency program for a period of one year. Other sculptors included in the 1994 intake were, Dominic Benhura, Arthur Fata, Colleen Madamombe, and Joseph Muzondo, all who are seen to-day as strong proponents of the second generation of Zimbabwean sculptors. Nyanhongo is committed to portraying the ever changing aspects of his culture, the durability of his message spurs him to use increasingly harder stone. As he says,
My work must mark stages of my life; but it must also record the important stages of life around me... This is why I use the hardest stones, so that people will be able to understand these things in the years to come.
Although preferring to work in solitude, Nyanhongo takes as a continual source of inspiration, human relationships particularly those of the family. The physical features of his subjects are finely resolved and full of spirit. Often beautiful and sculpted with an assured skill, the technical prowess displayed in his work is of a hand greatly more experienced than Gideon's, or so it appears - he has the ability to shape the stone as if it were clay. Nyanhongo's sculptures speak tenderly of parenthood, protection, innocence and human love; as well as highlighting more traditional Shona themes of spiritual guidance and direction. Chapungu Protecting Family, is a symbiosis of most of his major subject matter, producing a well composed and harmonious piece of work.
In recent years, Nyanhongo's work has displayed an increasingly confident identity and is considered some of the most communicative to new audiences of Zimbabwean stone sculpture.
---