Joram Mariga
Joceline Mawdsley, Former Exhibitions Curator, Chapungu Sculpture Park, Harare
---
[ The following essay has been adapted with the kind permssion of the Director, Chapungu Sculpture Park, from Chapungu: The Stone Sculptures of Zimbabwe (1995). All images © Chapungu Sculpture Park, Harare.]
---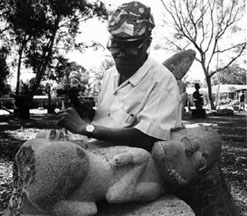 The career of Joram Mariga is inextricably linked with the beginning of Zimbabwean stone sculpture. The exact sequence of events leading to the birth of such a movement can often be difficult to establish. Essential elements occurred at the same time, but with a degree of independence and the source of initial influence is worthy of much discussion. We know thatJoram Mariga, in his own way, influenced many who were to become prominent artists in the following years; with direct teaching from his Nyanga 'studio' and by more general example - men such as Chrispen Chakanyuka (who himself played a vital role in the emergence of the Tengenenge sculpture community), John and Bernard Takawira, Bernard Manyandure, Kingsley Sambo, Moses Masaya and others, further afield, whom he met on his travels, when - as he says - he 'whispered the gospel of sculpture.'

.ank McEwen - founder of the Workshop School and the first direction of the new National Art Gallery of Zimbabwe. "The sculptural expansion developed in only 34 years. To give a true example, among others arriving from different parts of the country came Joram Mariga. He was not the first to come to the workshop, but one of the best. He brought me a little milk jug carved in soft stone. I realised this was an English milk jug for an Englishman who loved his tea! I asked if he could make a head. The head came, make also for an Englishman, in the style of airport art as acquired by tourists. 'If you made a figure for your own family or your ancestors?' I asked. 'Oh, that would be different.' The figure came, this time of pure African concept - the enlarged head, seat of the spirit, a frontal static pose, a visage staring into eternity with formally posed arms and clenched fists. It was pre-Columbian in nature, as if a spirit image applied to stone could create similar results in spite of a difference of race, place and time."

Born of artistic parents in 1927, Mariga used to watch his father and brother carve wood, and his mother make open-fired ceramics. Experimenting with wood carving at first, he moved onto soft stones such as Steatite, but later discovered colourful, harder stones with which to work and became committed to this new material. Others, on seeing his work, asked to be taught the skill and his influence gradually spread.

It was essential to Mariga in the early days, to return to close contact with Shona customs and the significance of the natural world, and these themes have been consistently portrayed and explored in his work over many years. Most recently he has challenged himself with harder and increasingly unusual stones and not only offers respectful advice to younger artists, but is always open to comment and discussion of his work; leading to further refinement of his ideas. His sculpture often portrays strong messages and stories and despite their clear, accessible appearance, contain great depth and innovation.

There has never been any doubt about Mariga's position as an initiator and source of inspiration. His knowledge of the early days ensures that he remains a powerful example to artists today, amongst whom he is regarded with affection and respect, being referred to as the Father of Zimbabwe Sculpture.
References
Mawdsley, Joceline. Chapungu: The Stone Sculptures of Zimbabwe. Harare: Chapungu, 1997.
---