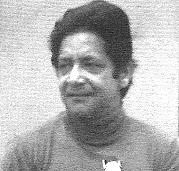 Photo courtesy Banyan Limited
A Brief Biography of V. S. Naipaul
David P. Lichtenstein '99, Brown University, Contributing Editor, Caribbean Web
Vidiadhar Surajprasad Naiapaul's prolific writing career spawned out of an inauspiscious birth in Chaguanas, Trinidad on August 17, 1932. Although his parents descended from Hindu immigrants from Northern India, Naipaul's inability to form spiritual connections with his heritage, be it Trinidadian, Indian, or even British, dominates his thought as it appears in his work. Like Jamaica Kincaid, Naipaul has turned to his own life for material, writing of his exodus from Trinidad to England (where he took a B.A. at Oxford) in such works as The Enigma of Arrival. Writing has really been his only career, and the large number of successful novels under his name proves his time well-spent.
Critics laud Naipaul for the extraordinary vision that marks his writing. Perhaps due to his status as rootless wanderer, as a man without a heritage to hold sway over him, Naipaul consistently knocks down idealized views of the places he journeys to, be they England, Trinidad, or Africa, in favor of a more complex, bitter, sometimes even contradictory truth. Along the way he has endured harsh criticism from the Third World for his often scathing portrayals of India or the Caribbean. Particularly in the case of the West Indies, Naipaul's airing of dirty laundry seems not motivated out of vindiction but out of an effort to work through the scarring memories he holds of his time there. Be it via the humor of his earlier books or the dark cynical psychology of later efforts, V.S. Naipaul has time and again used his honest and penetrating vision, coupled with an extraordinary command of the English language and its traditions, to paint portraits of the outcast roaming through civilizations of the world.
References
Contemporary Authors, New Revision Series. Edited by J. Chapman and P. Dear. Detroit: Gale Publishing, 1996, Volume 51.
---