Amateur Drawing Association and the Low Brothers
Kwok Kian Chow
This document is part of a joint project of the Singapore Art Museum and the Honours Core Curriculum, National University of Singapore. This image and accompanying text appears here with the kind permission of the Singapore Art Museum.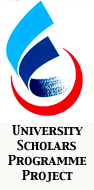 Although there is some scanty information on an art club established in Singapore around 1882 (Happy Low, Xu Yunqiao p. 73) a good starting point for a survey of twentieth century Singapore art history is 1909 -- the year when the Amateur Drawing Association was established.
Sir Song Ong Siang, a Straits Chinese leader during the turn of the century, recorded in his One Hundred Years' History of the Chinese in Singapore (1922) that the Amateur Drawing Association, led by its first president Tan Kok Tiong, had a club house in Amoy Street and a membership of about 50 in its first year. The association's activities included "drawing, literary pursuits and physical culture," but as there were few "drawing members" in spite of an exhibition of members' drawings held in February 1913, the drawing or art focus became diluted with the expansion of gymnastics and social activities (pp 475-88).
The few sources available on the Amateur Drawing Association give an indication of the nature of art activities in the early part of the century. Personalities such as the Low brothers -- Kway Soo, Kway Koh and Kway Song --and Dr Lim Boon Keng (another prominent Straits Chinese leader who was also a staunch supporter of the Chinese Reform Movement) were all involved in the association.
Lim gave a lecture on "The Influence of Religion on Art" at the Chinese Chamber of Commerce under the auspices of the association in 1913. Focusing on the close relationship between religion and art, (Song Ong Siang Ibid pp. 487-8) he echoed the concerns on aesthetics and religion prevailing in China, notably the writings of the influential education and art theorist Cai Yuanpei. Cai, who published his Five Principles in Education in 1912, highlighted the importance of aesthetic education and would later develop a theory on the substitution of religion with aesthetics.
Lim Boon Keng urged the members of the Amateur Drawing Association "to practise art from nature and not to attempt copying." He cited the example of Chinese "scenic artists" who had always drawn upon religious thought for their appreciation of the inner meaning of things, "with the result that they painted with individuality and magnificence of comprehension," Lim, however, concluded with a colonial validation that "some British authorities had acknowledged that Chinese landscape painting was unsurpassed."
The three Low brothers, also Straits Chinese, were well-known for art and for being active in the performing arts as actors, stage designers and playwrights. The eldest was Kway Soo, followed by Kway Koh and Kway Song, Song Ong Siang noted that Kway Koh was an architect while Kway Soo, who was an aspiring artist, finally pursued a career in medicine:
Low Kway Soo is a self-made artist, born in Singapore in 1881 . . . When Kway Soo was still a student at Raffles School, he showed a considerable aptitude in drawing pictures... After leaving school, he set himself steadily to the formidable task of improving his artistic talent without a master, albeit he had to work in an office to earn his livelihood... Low Kway Soo's services could always be counted upon... for painting scenery and decorating the stage... sketches of celebrities... comic pictures. He expresses regret that he was born in a generation when his conceptions of art cannot be freely and fully displayed, as his customers cannot appreciate them, but he does not blame the present generation for its lack of appreciation of art, since there is no school or any other means of training our people of this generation to be art connoisseurs. Against his will and to please his customers, he has to produce pictures which do not satisfy his artistic soul, but which are marketable. Most of his works consist of portraits of well- known persons Believing that there is a brighter future for him if he combined Medicine with Art, he has joined the Medical School as a student. [Song Ong Siang Ibid pp. 400-1]
As for Kway Song, his life appeared to be very eventful starting from his first day in school when he was flogged for sketching a bald-headed teacher. He later became a bank clerk, a publisher, worked for a tin-miner, and was owner of a photography studio along Stamford Road. Made the honorary art instructor of the Amateur Drawing Association in 1911, Kway Song is said to be the first artist to have fetched a four-figure fee for a portrait -that of Oei Tiong Ham in 1927 (Speeden).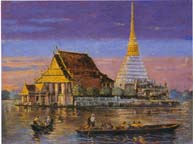 Thai Temple and Lynx are examples of Low Kway Song's work. Painted in 1923 and 1921 respectlvely, these two works are very important documents of early-twentieth-century art in Singapore. In Lynx, the alert animal poised or a trunk root is stretched diagonally across the composition giving it an imposing presence. The intense gaze of the cat invites the same of the viewer. Thai Temple, on the other hand, captures a mood of serenity. It is a river scene centred upon a lofty Buddhist temple lit by soft morning light.
Analyses on cultural orientations of different social groups, especially the differences between the Straits Chinese and Chinese immigrants help to provide the aesthetic parameters which characterise art activities in the early part of this century. Song Ong Siang, who was the founder of the Chinese British Association, discussed the Amateur Drawing Association in the context of social and political organisations of the Straits Chinese who generally professed political loyalty to the British Crown and were culturally influenced by British, Malay and Chinese traditions.
The Amateur Drawing Association suggests a social network of art enthusiasts who were associated with the Straits Chinese and British elite. It is not surprising, therefore, that the art activities of the Low brothers appeared to have been largely driven by commissions. Low Kway Soo, at least, felt that there was a strenuous contradiction between what the clients and what he himself wanted in terms of artistic expression.
References
Happy Low. "Brothers Who Blazed the Trail of Art in Malaya". The Sunday Times, July 19, 1953.
Muriel Speeden. "Portrait of the Artist as an Old Man". Straits Times, April 13, 1982.
Song Ong Siang. One Hundred Years' History of the Chinese in Singapore. Singapore: Oxford University Press 1984.
Xu Yunqiao. Xinjiapo yibai wushi nian dashi ji. Singapore: Youth Book Store.
---





Last updated: May 2000