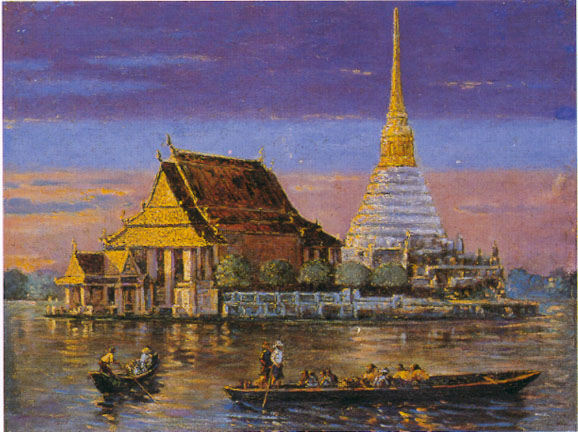 Thai Temple by Low Kway Song. &nbsp Year: 1923. Medium: Oil on canvas. Size: 61 x 46 cm.
"Thai Temple and Lynx are examples of Low Kway Song's work. Painted in 1923 and 1921 respectlvely, these two works are very important documents of early-twentieth-century art in Singapore. In Lynx, the alert animal poised or a trunk root is stretched diagonally across the composition giving it an imposing presence. The intense gaze of the cat invites the same of the viewer. Thai Temple, on the other hand, captures a mood of serenity. It is a river scene centred upon a lofty Buddhist temple lit by soft morning light."

-- Channels & Confluences, ch. 2.
References
Kwok Kian Chow. Channels & Confluences: A History of Singapore Art. Singapore: National Heritage Board/Singapore Art Museum, 1996. Plate 1.
This document is part of a joint project of the Singapore Art Museum and the Honours Core Curriculum, National University of Singapore. This image and accompanying text appears here with the kind permission of the Singapore Art Museum.
---




Last updated: April 2000