Cheong Soo Pieng: An Overview

Introduction
Cheong Soo Pieng received formal art education in China, and developed a distinctive style throughout his career in Singapore. Writings on Cheong's art are very much based on his formalistic development according to the following "phases of experimentation": oil in impasto effects (1948-59), Chinese ink on rice paper (1960-63), oil with new effects (1963-68), abstraction (1968-70), mixed media sculptures and porcelain work (1970-72), abstraction continued (1972-79), oil with new effects (1975-83), Chinese ink with new effects (1979), painting on tiles and porcelain (1982-83), and Chinese traditional medium on cotton (1983).
Cheong first studied art at Xiamen Academy of Art and subsequently enrolled at the Xinhua Academy of Fine Arts in Shanghai. After arriving in Singapore in 1946, he lectured at the NAFA from 1947 to 1961. Indians and Cows, an oil painting of 1949 is representative of Cheong's work in the late-1940s. By the time Cheong came to settle in Singapore, he was already an accomplished artist, proficient with the methods and materials of ink painting. After his arrival, Cheong lost no time conceptualising and forging a new art form which he felt was more compatible to his newly-adopted tropical home. He sought to capture the colours and charms of local life in a whole new pictorial language. Indians and Cows reflects Cheong's eagerness to look at and adopt new motifs for his pictorial composition. A large tree trunk divides the painting boldly into two unequal parts -- the Indian herdsmen facing ore another in conversation at the edge is almost overwhelmed by the two resting cows at the centre of the picture. The palpable presence of the animals is heightened by the soft, sinuous outlining of their silhouettes and the sensitive modelling of their forms.
Cheong's innovative spirit drove him ceaselessly to test new ideas and explore new visions. Seaside, executed in 1951, was one such experiment. The motif of the sea is not obvious at first glance. Upon closer examination, the familiar elements of seascape such as boats and a fishing village are revealed. Seaside conveys a sinister mood, conjuring a haunting image of a dream world where reality and the imaginary meet and interact. It is an example of Cheong's remarkable ability to render and elevate the everyday and commonplace to the level of fantasy and the extraordinary. Cheong's continual investigation of the painted composition resulted in works such as Malay Woman, probably of the mid-I950s. Here, the atmospheric effect of the work is reduced with emphasis shifting to more pictorial and composition interests.
-- Channels & Confluences: A History of Singapore Art, chapter 13.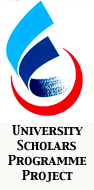 Works
References
Kwok Kian Chow. Channels & Confluences: A History of Singapore Art. Singapore: National Heritage Board/Singapore Art Museum, 1996
---




Last updated: April 2000