The Restored Entrance Gate, Great Zimbabwe, from Inside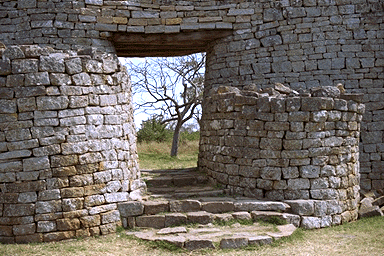 Looking out through the Restored Entrance Gate to the Enclosure at Great Zimbabwe at a tree and the surrounding area. Several horizontal beams formed from a dense black stone support the massive weight of the wall above the opening. The original stones seem to have been found in that form and not cut, though I'm not sure if the restoration uses these original stones (some of which can be seen in the museum that is part of the copmplex) or modern ones that have been cut [GPL].
---
Photographs © George P. Landow. Scan of original negative by Imagers®. Images may be used without written permission for any educational purpose. Any commercial or other use requires prior written permission from George@Landow.com.
---




Last Modified: 21 March, 2002