Great Zimbabwe
George P. Landow, Professor of English and Art History, Brown University
(Click on individual pictures to obtain larger images, which take longer to download.) Photographs © George P. Landow. Scans by Giovana Roz, Brown University Visiting Scholar from the University of Turin. Images may be used without written permission for any educational purpose. Any commercial or other use requires prior written permission from George@Landow.com.
Introduction
This complex of ruins from which the modern nation of Zimbabwe took its name is one of the country's greatest historical and cultural attractions. As Paul Tingay's helpful guide explains, Great Zimbabwe, the largest ruins in Africa, covers almost 1,800 acres.
Sited on an open wooded plain surrounded by hills, the ruins comprise the vast Great Enclosure complex, and on a nearby kopje the Hill Complex, a veritable castle of interlocking walls and granite boulders, while all around in the valley lie a myriad other walls. The ruins feature an array of chevron, herringbone and many other intricate patterns in its walls, and the astonishing fact is that despite the dry-stone technique used in Great Zimbabwe's construction (no mortar binds the stone blocks), the complex has endured for seven centuries. [Zimbabwe, Globetrotters Travel Guide, London: New Holland Publishers, 1994, 97.]
The complex, which wealthy Shona-speaking cattlemen built between the thirteenth and fourteenth centuries, may have housed as many as 40,000 people at its height.
Art, Archeology, and Politics
Since Europeans first encountered the ruins of Great Zimbabwe, it has been the focus of ideological concern and conflict. Unwilling to believe that sub-Saharan Africans could have built such a structure, adventurers and ideologues long claimed the ruins a mystery, theorizing that ancient Phoenicians, Arabs, Romans, or Hebrews created the structures. In fact, as Tingay points out, "since archaeologist Gertrude Caton-Thompson's excavations in 1932, it has been widely known that Great Zimbabwe is truly of Africa and less than 1000 years old" (98). Nonetheless, the White Rhodesians, whose ideology proclaimed the land "empty" of people and culture before they arrived, "tried to rewrite history -- even asserting that an African genesis for Great Zimbabwe was tantamount to treason" (98). After the War of Liberation, the new nation, discarded the name of Cecil Rhodes and, looking to the past for nobler origins, chose the name Zimbabwe.
Hill Complex
Great Enclosure
Left to right: The Wall with its zig-zag decoration; a view inside the enclosure; the Grainary.
Looking toward the grainary; an external view of the restored entrance.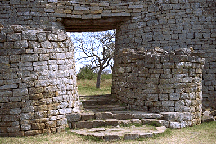 Looking out through the restored entrance gate to the enclosure at Great Zimbabwe.
Related Materials
---




Thanks to Barbara Bennett for correcting a typo.
Last modified 27 August 2006