Women Artists
Kwok Kian Chow
This document is part of a joint project of the Singapore Art Museum and the Honours Core Curriculum, National University of Singapore. This image and accompanying text appears here with the kind permission of the Singapore Art Museum.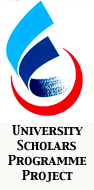 The 1980s saw the emergence of many outstanding women artists including Eng Tow, Chng Seok Tin, Lin Hsin Hsin and Han Sai Por.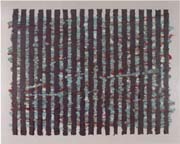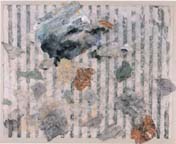 Eng Tow's Kelong series and Shikoku Isle are works recording the transformation of mixed media materials through pressing, casting and shaping, A graduate of NAFA, Eng studied textile in Britain and worked there as a lecturer and designer in textile before returning to Singapore in 1981. Eng's work in the 1970s was mainly textile construction and in the 1980s she became interested also in handcast paperwork.
Chng Seok Tin is another artist who graduated from NAFA and had long years of studying and working abroad. Flowing is a print work by the artist. Her Man and Environment is a mixed media piece on the theme of man, society and the environment, a recurrent concern for Chng. This work is the culmination of Chng's experiments with different materials such as paint, fabric, paperpulp and plaster to produce textures, reliefs, and painterly qualities.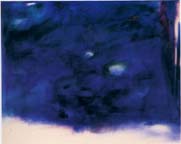 Lin Hsin Hsin's In Appreciation of Time is rendered in cobalt blue which has become her signature colour. The work is an inquiry into and an expression of time. The fleeting yet eternal quality of time is portrayed in subtle shades of blue on blue which impart an impression of airiness, space and mystique.

Han Sai Por's Growth of 1985 is a notable work consisting of five related forms. The five pieces are carved from marble and reveal Han's sensitivity in the handling of the material. Through delicate sculpting, Han has effected these stone surfaces with subtle, tactile nuances. Spirit of Nature, a work of 1988, expresses the notion of a multifarious unity. Each of the three pieces of carved marble exhibits both an essential difference and a unique identity; and yet the existence of each piece is justifiable only as an element of the trinity. Object C is a 1992 granite work The canoelike sculpture has carefully modelled curvatures on the top surface with two tapering ends, These ends point away from each other and create a tension of balanced but opposing forces. The C could stand for a myriad of representations: the canoe its shape appears to echo; a cradle whose to-and-fro rocking motion resembles the opposing movements of the piece.
In 1991, an all woman exhibition titled Women and Their Art was held at the National Museum Art Gallery. Curated by Susie Koay, this might well have been the first major all-woman art show since the exhibition in the YWCA in 1931. Women and Their Art featured works by Chng Seok Tin, Amanda Heng, Katherine Ho, Diana Chua, Soh Siew Kiat, Lee Foong Siew and Hazel MacIntosh. It included works expressing the aesthetic and social concerns of women, which set it apart from being an exhibition of works by artists of the same gender.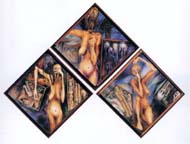 Diana Chua studied art at the National Taiwan Normal University. Chua's paintings are often social commentary about modern life. Boxes #10, a triptych on wood, reveals a mental experience where life and things are inverted, confused and uncertain. The images are a personal mindscape in the state of beIng trapped and boxed.
Amanda Heng's entry into the Singapore art scene was relatively late. The former tax officer enrolled in a printmaking course at La Salle College of the Arts in 1986 before becoming one of the founding members of Artists Village in 1987. She currently works in various media including installation and performance art.

Completed in 1991, She and Her Dishcover was first shown at Women and Their Art. It consists of a table covered with a table cloth printed with words such as "choice", "feels", "joy", "speaks" and "maker" that refer largely to the emotional responses of women. Underneath the dishcover on the table is an oval mirror with a red object that resemble lips. The work attempts to relate to the psyche of women whose status is relegated to that of performing kitchen tasks, considered secondary to the activities of the neck-tie world of men. Apart from being a work that comments on the position of women in society, it is also an expression of selfdiscovery and acceptance.

Suzann Victor's installation work His Mother is a Theatre was first displayed in Personae 1 in 1994. This powerful and theatrical work comprises a long piece of black fabric configured into women and men's garments hung on walls flanking a table. On the table are placed three small woks and six bread loaves. The lid of one wok is attached by wire to a spring mechanism whose motion causes the lid to intermittently hit the wok, Words, formed with strands of human hair, are arranged in concentric circles beneath the table. This work is the artist's statement of women's position in a patriarchal society.
---





Last updated: May 2000